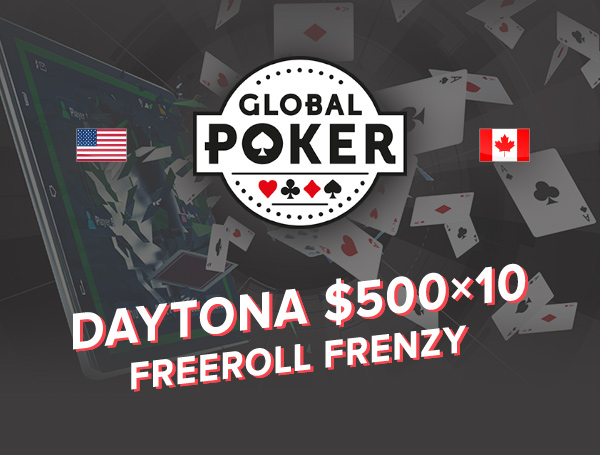 Global Poker has created a new business model of virtual currency gaming combined with real cash prizes, allowing the company to operate in the U.S., Canada and many other countries worldwide. Global Poker's latest freeroll, the Global Poker Daytona $500×10 Freeroll Frenzy, kicks of this Sunday.
"We're proud to offer a widely accessible poker site to the U.S. poker playing public," said Laurence Escalante, chief executive officer and founder of VGW, the company behind Global Poker. "We believe Global Poker is the future of online poker in the U.S."
This could signal a major change in the industry as GlobalPoker.com isn't characterized as gambling. The company's sweepstakes model operates in partnership with Facebook and PayPal. Global Poker's patent protects its business model, meaning other companies may not be able to follow suit.
"Our unique and patented Sweepstakes model offer players something different without straying too far from traditional poker," Escalante said.
Global Poker sells virtual currency in the form of gold coins or virtual chips. The sweepstakes entries are treated as a second form of virtual currency, basically allowing the company to operate games in the form of traditional real money play.
Gold coins are used for play in tournaments and are credited to the player's balance, but can't be cashed out. The company gives away sweepstakes, or Sweeps Cash, that can be used in the poker room and withdrawn via PayPal as real cash prizes.
Currently, Global Poker's model applies to any game of chance, including all casino games, sports gaming and lotteries.
Global Poker, a public company owned and operated by VGW Holdings Limited, was incorporated in Australia in 2010. The company looks to become a leading poker room globally, focusing specifically on markets in the U.S. and Canada.
The Global Poker Daytona $500×10 Freeroll Frenzy! starts this Sunday at 2 p.m. EST. This $500 no-strings-attached freeroll runs every half hour for five hours, giving players 10 tournaments and $5,000 to play for.
Get your account started today and you automatically get $2 free $weeps Cash and 10,000 gold coins. So whether you're in the states or not, you can assuage your worries, play some poker and cash out with PayPal.
"We are all keen poker players and we are in for the long haul," Escalante said.
Join in on the fun or just check out what Global Poker has to offer with a visit to GlobalPoker.com.
Sponsor generated content by Global Poker
Have you ever wanted to write your own articles about poker? Maybe you've got some experiences or opinions about poker that you'd like to share. PokerNews is proud to launch The PN Blog where you can have a platform to make your voice heard. Learn more here.